Any Chicagoan can see that the closest body of water is not anywhere you'd want to go fishing. My sister and brother-in-law went kayaking down the Chicago River last year and probably saw more dead fish than live ones. All that aside, there are some spots in Chicago that take large measures to serve up solid seafood options year round. Here are my ten favorites.
It might look like any other River North bar at first glance, but the basement is where it's at. It's dark, cozy, and the variety of fish served is impressive. Plus, Devon has one of the best pre-dinner lobster rolls around.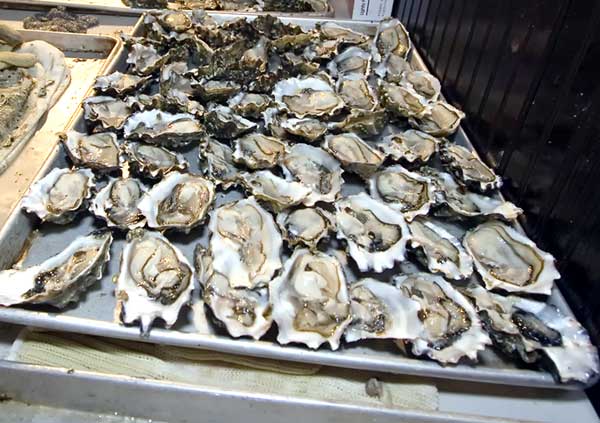 This little bar on Diversey has one of the better patios around. You can get crab legs, oysters, and pretty much anything else you might fancy a seafood dive making for you. Half Shell does a great job of grilling fish, too.
On the western border of River North, this dive has some awesome fried whitefish tacos. If you can look past the burgers and foie gras French fries, you'll find some killer Po' Boys too. I'd suggest the shrimp or soft shell crab.
This Peruvian hot spot is somewhat out of the way, but well worth the venture. It's cheap and BYOB. Once you've settled in, go for the salmon, the fried calamari, or one of the fried filets.
This Lincoln Park joint has a cool central bar setup, kind of like an old diner. The po' boy or the lobster roll are the way to go. Make sure not to pass on the basket of crispy fried lemon, onion, and jalapeño for a side.
For Italian-style fish, Piccolo Sogno is where you want to go. There is usually a whole fish option that's off the menu (that you HAVE to ask for), and the halibut is a solid second option. Great calamari in a bag, too.
New England Seafood Company is another BYOB option with a casual setup. If you want to take something home to cook from the large seafood counter, that's fine, but I suggest you stick around for the clam chowder and the lobster roll.
The menu is more oriented towards small plates than the other seafood places on this list. While you can't really go wrong with your choices, I happen to be partial to the clam bake for dinner and the tuna BLT for lunch.
My family's been going to Joe's for years. It's well known for its stone crab, but that's never been my choice. The seafood salad is a good way to start, and there's usually a wonderful sea bass, halibut, or tuna for a main dish. To finish things off, Joe's has one of the best key lime pies in the city.
Whether it's one of the many blackboard options for dinner or the seafood hash for brunch, Glenn's has my favorite fish menu in town. The really thick clam chowder is unrivaled in the city, and the bacon-mushroom cream sherry pan-fried scallop dish is hard for me to look past to try anything else.
The Shanty would have been toward the top of the list, but it's just too far out of the city. The Shanty is in Wadsworth, which I assume you've never heard of. But if you're on the way to or from Milwaukee, it's a worthwhile detour for the excellent seafood filets.